Looking for an accountant in Amsterdam?
Cijferbaas provides accounting and tax services to small- sized businesses in the Amsterdam area. This not only concerns freelancers (zzp'ers), but also entrepreneurs with staff. In addition we also provide employement law services and payroll services.
Accounting services
Cijferbaas adapts to your needs. In some cases an entrepreneur wants to do the bookkeeping by himself and only the yearly Income Tax filing is needed. In other cases, it is the overall financial administration. For either assignment, Cijferbaas offers a fair price.
Cijferbaas provides the following services:
– setting up the administration and accounting books
– perform bookkeeping for all financial transactions
– reconcile and balance all accounts
– complete year end closings
– present financial statements
– analyze financial data and produce financial reports
– calculate and prepare tax payments
– file VAT returns
– file Income Tax returns
Rates for our accounting services
Cijferbaas offers a total financial package from €49,- a month. This package includes all the activities that keeps your bookkeeping up to date, all tax filings and the making of the required governemental statements.
In case you want to use our services on a hop-on-hop-of basis we charge €60,- per hour. In case you want us to calculate and file your Income Tax we charge €75,-
Please contact us at info@cijferbaas.nl for a quotation.
About Cijferbaas?
Leen Zwier is an energetic analytical thinking mind. He enters the world with a healthy dose of humor. He feels best in a new environment with new challenges where things still need to be set up and where he can show his capabilities. After finishing the HEAO (bachelor in Business Administration) he has held mainly engaged in accounting jobs. He is currently studying for Tax Consultant and is a candidate member of the Register Belastingadviseurs.
Inseparable with Leen is sports. Leen does a few times a week Shooto ( combination of jiu jitsu and standing fight). He guides athletes through technique and strength training . The no-nonsense mentality, directness and resolve issues in a practical way are descriptions that suits Leen best.
Useful links
Answers for business
Answers for Business is the starting point of the Dutch government for entrepreneurs. See at a glance which rules, permits, taxes and subsidies apply when you do business in The Netherlands.
www.answersforbusiness.nl/guides
Government.nl
Government.nl is the central access to all information about governmental organisations
in the Netherlands.
http://government.nl
Dutch Immigration authorities
The IND (Immigratie- en Naturalisatiedienst) has the governmental task to carry out the
vimmigration policy.
https://ind.nl/en/individuals/residence-wizard
Chambers of Commerce
The Dutch Chambers of Commerce provide information on starting a business, legal forms, registration in the trade register, international trade etc. We accumulate knowledge, contacts and partnership. Partnership, making us the essential reference point for every firm doing or seeking to do business.
http://www.kvk.nl/english/starting-a-business/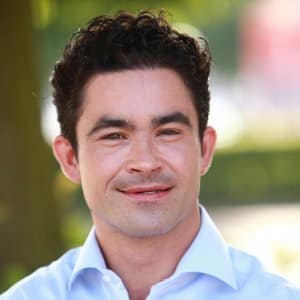 "Cijferbaas wants to ease the administrative burden for your business"